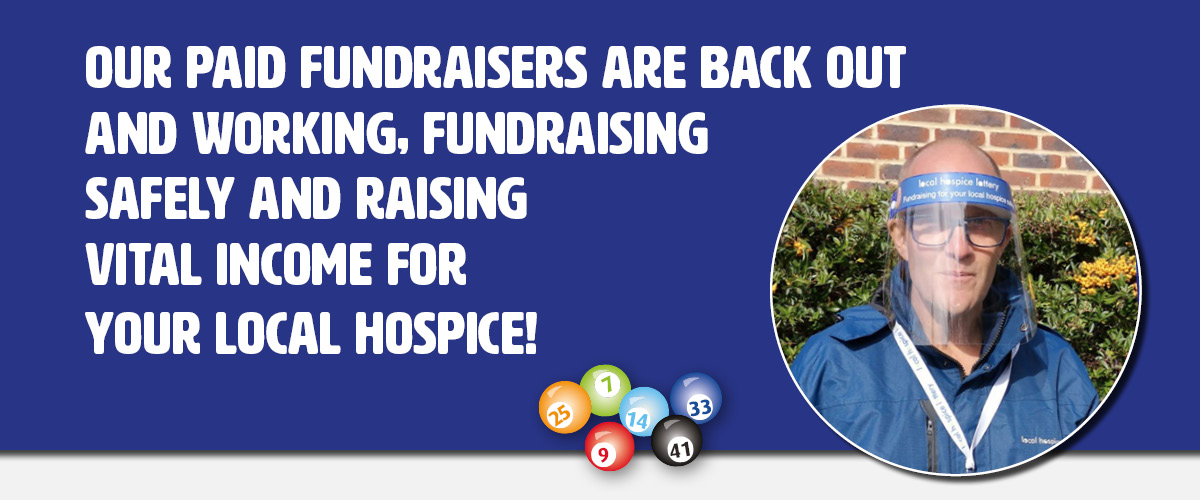 With UK charities facing their toughest financial challenge to date it has never been more important to keep raising funds for our local hospices. Thanks to the ongoing generosity of the general public, Local Hospice Lottery has been able to run its weekly draw every week throughout the pandemic and continue generating vital income for its numerous hospice partners up and down the country. In fact, the not-for-profit society lottery which is proud to be known as 'the country's leading lottery for hospices', celebrated reaching its '£30Million raised' milestone in June of this year!
With face-to-face fundraising currently being responsible for recruiting around 90% of Local Hospice Lottery's new players, it was of utmost importance to get this activity back up and running after the four+ months which were lost during the national lockdown. Local Hospice Lottery are therefore pleased to report that face-to-face fundraising activity is now back up and running safely with appropriate measures in place – including staff retraining, social distance mats and PPE for all of our fundraisers – to protect the public, our teams and a vital source of income for hospice care.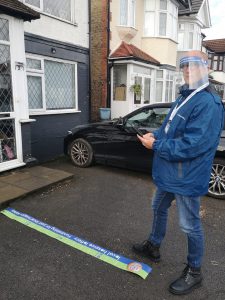 Local Hospice Lottery's Chief Executive Officer, Gary Hawkes, explains; "To say that 2020 is proving to be a difficult year for our hospices, and all of our charities across the country, would of course be a huge understatement. With shops needing to be closed for a number of months and now operating at a reduced capacity, important fundraising events having to be cancelled, and many other income streams also being negatively affected – hospices now face the challenge of having to run their essential services and meet a likely 'surge in demand' with much less funding than they were expecting to receive throughout the financial year.
 "However, lottery income has proved to be one of the few stable and reliable forms of fundraising for our hospices. It is therefore fundamentally important that as an organisation we continue to adapt so that we can raise as much money as possible and our paid face-to-face fundraisers are crucial in enabling us to do this. As a result of the changes we have put in place to ensure that social distancing, relevant PPE and guidelines are adhered to when our fundraisers speak with people, this form of fundraising is presently one of the safest ways of raising funds.
 Gary concludes, "We couldn't be more grateful to the 5,000 people who have engaged with our fundraisers, since we returned to face-to-face fundraising in August, either at their front door or at a local venue, and committed to play the Lottery and support the essential work of their local hospice on a regular basis.  In exchange for just £1 per chance to enter the weekly draw, these people's participation alone should add up to raise up to an additional £450,000 for the hospices we work with and touch the lives of many local families affected by life limited illnesses, up and down the country."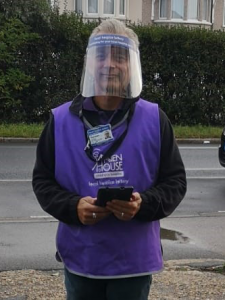 To ensure that Local Hospice Lottery fundraises safely and takes all of the necessary precautions to protect both its fundraisers and members of the public, its face-to-face fundraisers:
wear branded uniforms and carry ID badges with them at all times
use enhanced tablet software which enables people to complete their lottery membership quickly and securely without needing to touch or sign the tablet, so that social distancing can be maintained at all times
wear plastic face visors when engaging with the public and also have fabric face coverings with them for added safety where required
have Local Hospice Lottery branded 2 metre mats to visually demonstrate social distancing
carry hand sanitizer with them to ensure good hand hygiene throughout their working day
minimize physical transfer by not passing any printed materials (e.g. leaflets) directly to people. Once someone signs up to the Lottery, a personal Welcome Pack will be sent in the post to confirm the new membership and provide all necessary information.
You can find out more about Local Hospice Lottery's paid fundraisers, and view photos of the representatives working in your area, at www.localhospicelottery.org/meet-our-fundraisers. If you have any queries or concerns please contact Local Hospice Lottery directly on Freephone 0800 316 0645, or by email at info@localhospicelottery.org.