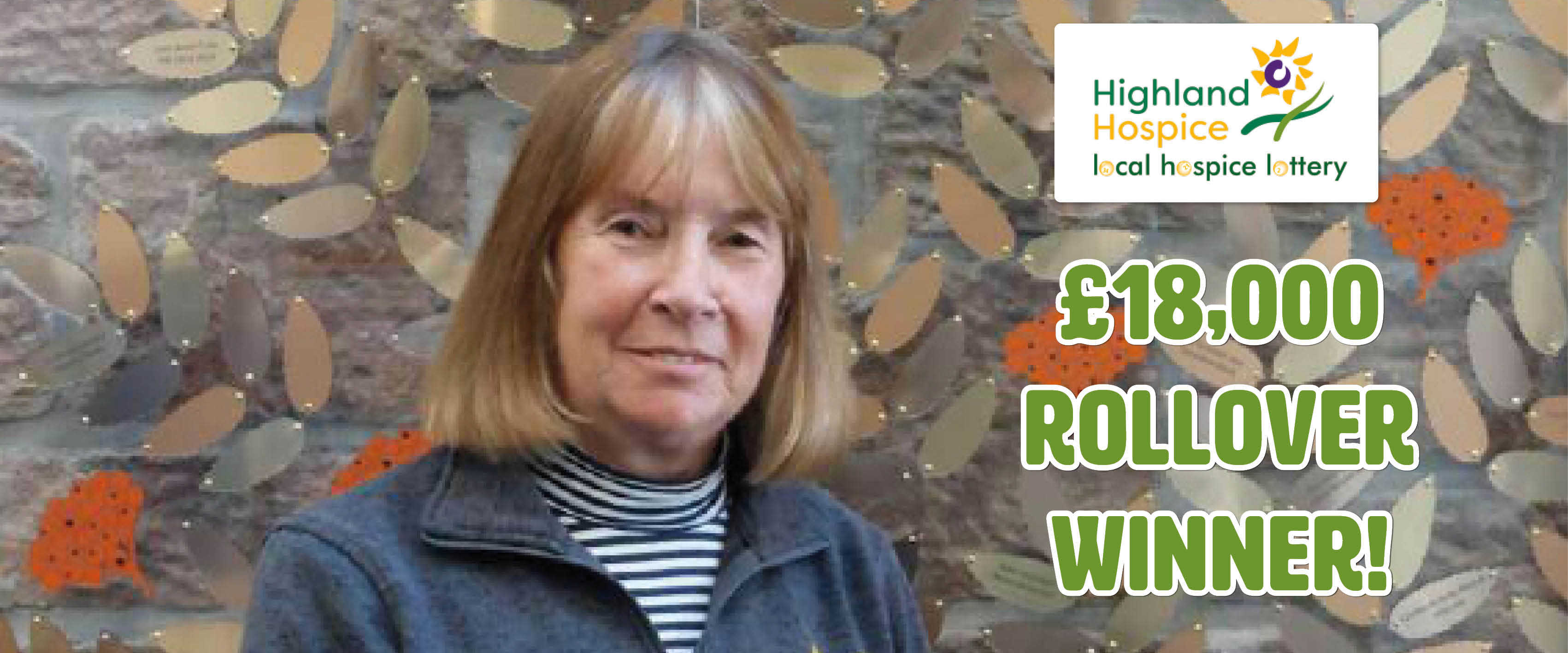 On 12th September 2022, Nancy Gordon from Nethy Bridge was over the moon when she received a phone call from Local Hospice Lottery to let her know that she'd won the rollover prize which had reached a whopping £18,000!
Nancy, who plays the Local Hospice Lottery in support of her local hospice, Highland Hospice, was both delighted and speechless to find out that she had won. But a few days later, on 15th September, when the news had sunk in, Nancy visited Highland Hospice to collect her cheque and take a tour of the Hospice to see first-hand what her ongoing support through playing the Lottery helps to fund.
Highland Hospice, Inverness
Here's what she said, "I've lost track of how many years I've done the Local Hospice Lottery, paid by direct debit and not given it too much thought. However, getting the telephone call to say I had won was amazing – I'm not someone who wins things! I found going to Highland Hospice deeply moving and it really opened my eyes to the wonderful work being done by the dedicated staff. Hopefully, I can encourage my friends and family to lend their support too."
Cheryl Bunkle, Director of Marketing & Account Management at Local Hospice Lottery, added,
"Local Hospice Lottery has been working with Highland Hospice since 2012 and since that time, their wonderful supporters have helped to raise over £2.2Million for the Hospice through taking part in the Lottery!! It may only be £1 per entry to take part and play, but these contributions add up and make a REALLY big difference to the amount of hospice care that can be provided locally and we are very proud to work with Highland Hospice and help raise this vital funding for them. 
"And in addition to the Hospice winning each week thanks to the money raised, Mrs Gordon's recent windfall shows how, as a supporter and a player, you could receive a pretty amazing cash prize too! We'd like to wish her massive congratulations and also the most sincerest of thanks for her very kind and ongoing support for Highland Hospice through playing the Lottery." 
Thank you to everyone who plays the Local Hospice Lottery and helps their local hospice to keep caring for local families affected by cancer and other life-limiting illnesses. All of your weekly entries add up and make a HUGE difference!!
If you're not already playing, but would like to support one of our partner hospices AND be in with the chance of winning a prize like Nancy did, follow this link: https://www.localhospicelottery.orgplay-local-hospice-lottery/#hero