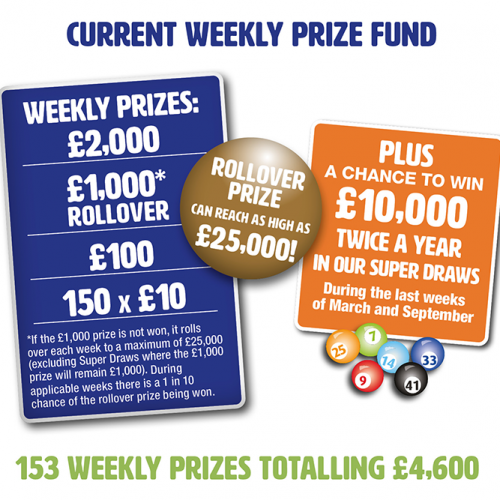 ** STOP PRESS – New & improved prize fund coming soon!**
After listening to our players' feedback in a survey we undertook in December 2019, we decided to make some exciting improvements to the Local Hospice Lottery prize fund which will come into effect on 1st January 2021. Not only will this mean that MORE prizes will be on offer each week to IMPROVE your chance of winning – thanks to a corresponding increase to play of just 66p per chance per month (which equates to just 2p per day!), together, we'll also be able to raise £MILLIONS MORE for Hospice Care across the country! Thank you for playing your part in making this happen.
From the 1st January 2021, the new weekly prize fund will therefore be as follows: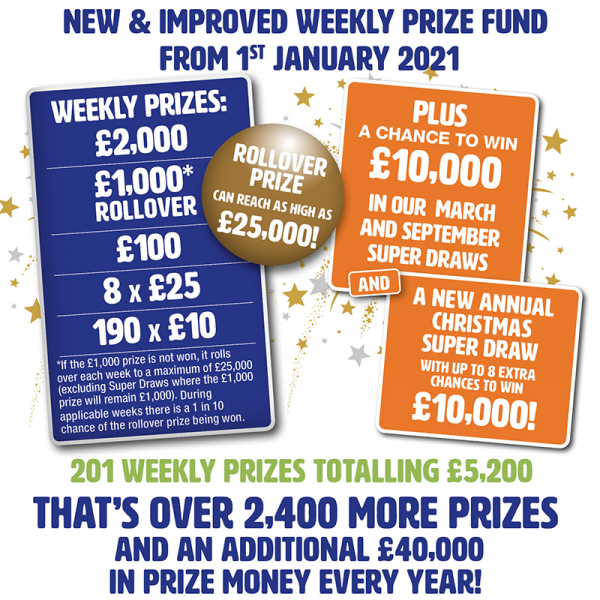 You can read more about the Super Draws here
How Prizes are allocated & winners selected
On joining you will be allocated with a unique game number(s).  Winning game numbers are selected from the unique game numbers of all players entering the draw by using Random Number Generator (RNG) software supplied by a company licensed by the Gambling Commission.
The player with the first game number randomly selected wins the £2000 prize. All other prizes are then allocated in the same sequence as the game numbers are drawn. As part of this process, the £1,000 prize in the regular weekly draw will either be won or rolled over.
In 2019, an average of 168,480 game numbers belonging to players supporting all of our partner hospices, were entered into each regular weekly draw. The 150+ winning game numbers were randomly selected each week as described above. Across the year, over 7,900 prizes were won, totalling £259,200. From 1st January 2021 over 10,400 prizes will be won each year totalling £300,400.