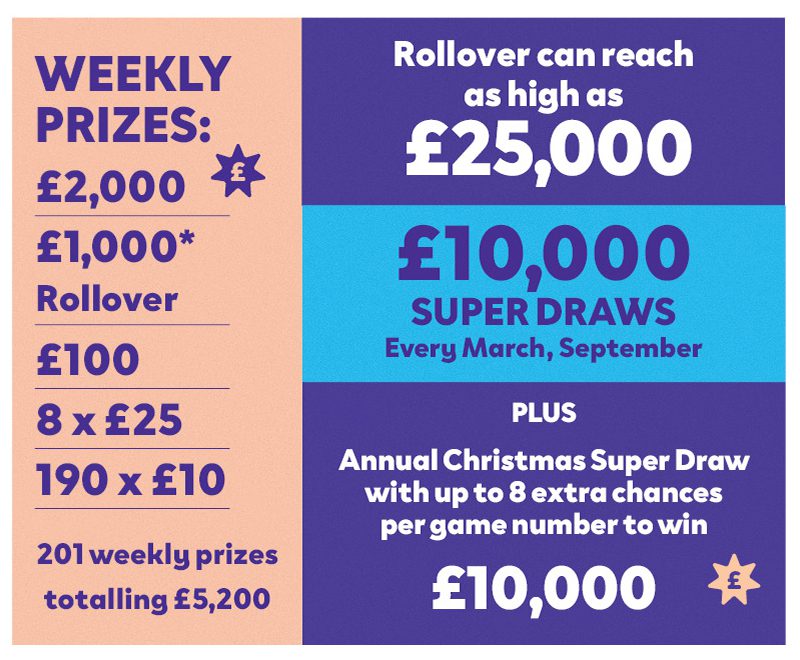 You can read more about the Super Draws here
How winners are determined and prizes allocated
On joining the Local Hospice Lottery you will be allocated a unique game number(s). Winning game numbers are selected from the unique game numbers of all players entering the draw by using licensed Random Number Generator (RNG) software. The player with the first game number randomly selected wins the £2,000 prize (or the £10,000 prize if a Super Draw). All other prizes are then allocated in the same sequence as the game numbers are drawn. As part of this process, the £1,000 prize in the regular weekly draw will either be won or rolled over to a maximum of £25,000.
How Proceeds are Spent and Odds of Winning
In 2022, £11.9 million was raised from tickets purchased by players supporting all participating hospices, with 3% spent on prizes, 12% spent on administration and management and 19% reinvested to recruit new lottery players. The remaining 66% was given to hospice care – an amazing total of £7.8 million. Based on estimated draw-entry numbers in 2023/24, the likelihood of winning a prize in the weekly draw is, on average, 1 in 1236. Similarly, for the September and March Super Draws the likelihood of winning a prize is estimated at 1 in 1577, and for the Christmas Super Draw at 1 in 7694.