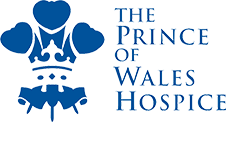 The Prince of Wales Hospice
---
It has always been extremely important to support our local hospices, but today it is more important than ever before. Because of your weekly £1s, we are still running our weekly draw and able to generate a regular and reliable income that The Prince of Wales Hospice can rely on. So THANK YOU!
Please be aware that due to the current situation surrounding the Coronavirus, it may take us a little longer than usual to answer enquiries and process new membership packs. However, rest assured that we are on the case and that we will get back to you as soon as we possibly can.
Thank you for your understanding and continued support.
---
The Prince of Wales Hospice cares for and supports patients with life-limiting illness and their families. They care for local people within the 'Five Towns' community, offering round-the-clock care.
The Hospice helps nearly 1,000 local people of all ages each year and they don't just treat patients with cancer either. They care for patients with a wide range of life-limiting illnesses with the majority of patients returning home after their symptoms have been managed.
Their services include:
Incare
Outreach
Lymphoedema Clinic
Therapy Services
Support for family & carers
How playing the Local Hospice Lottery helps The Prince of Wales Hospice
While all of the Hospice's care is free to all of their patients, it is not free to provide. It can be difficult to raise the funds they need to continue to make a difference and that is why supporters like you are so important. Profits from the Local Hospice Lottery help towards The Prince of Wales Hospice's running costs and provides a regular stream of income which they can rely on receiving, each and every month. Not only does this help to provide essential care and support to local families right now, it also enables The Prince of Wales Hospice to plan and develop their services for the future.
For each £1 entry in the weekly draw Local Hospice Lottery gives an average of 60p to hospice care.  The Prince of Wales Hospice is one of a number of hospices throughout Great Britain supported by Local Hospice Lottery. Local Hospice Lottery will give between 55% and 80% of profits from individuals playing in support of The Prince of Wales Hospice to The Prince of Wales Hospice.  This is expected to be at least £600,000 over five years from April 2020.
For more information about the services provided by The Prince of Wales Hospice  and the other ways you can help:
Visit: www.pwh.org.uk
Email: contact@pwh.org.uk
Call: 01977 708868
If you would like to find out about the other ways in which you can support The Prince of Wales Hospice, you can phone on 01977 708 868 or visit the website by clicking here.
The Prince of Wales Hospice is a Registered Charity, registration number 514999.