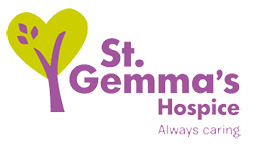 St Gemma's Hospice
---
It has always been extremely important to support our local hospices, but today it is more important than ever before. Because of your weekly £1s, we are still running our weekly draw and able to generate a regular and reliable income that St. Gemma's can rely on. So THANK YOU!
---
St Gemma's Hospice is a Leeds-based charity providing expert care and support for local people with terminal illnesses. They offer specialist medical and nursing care to thousands of local people each year and offer invaluable support to their families and friends. Opened in 1978, St Gemma's is the largest hospice in Yorkshire and one of the largest in England.
Care is offered to patients and their carers in the Hospice's 32 bed In-Patient Unit, through the St Gemma's community team and via their day services, which includes a Day Hospice and Out-Patient Department.
Patients of all beliefs, religions and cultures are made welcome at St Gemma's Hospice.
How playing the Local Hospice Lottery helps St Gemma's Hospice
The care and support St Gemma's Hospice offers is given entirely free of charge to patients and their families, when and where it's needed most. This mean that the Hospice relies upon the ongoing kindness and generosity of the local community to help raise the £9million a year it costs to keep their doors open.
Profits from the Local Hospice Lottery help towards St Gemma's running costs and provides a regular stream of income they can rely on receiving, each and every month. Not only does this help to provide essential care and support to local families right now, it also enables St Gemma's Hospice to plan and develop their services for the future.
In 2021, £10.6 million was raised from ticket sales, with 3% spent on prizes, 12% spent on administration and management and 18% reinvested to recruit new lottery members. The remaining 67% was given to hospice care – an amazing total of £7.14 million.
Local Hospice Lottery will give between 60% and 80% of profits from individuals playing in support of St Gemma's Hospice to St Gemma's Hospice. This is expected to be at least £1,500,000 over five years from April 2022.
For more information about the services provided by St Gemma's Hospice and the other ways you can help:
Visit: www.st-gemma.co.uk
Email: info@st-gemma.co.uk
Call:  0113 218 5500
St Gemma's Hospice is a Registered Charity, Number 1015941