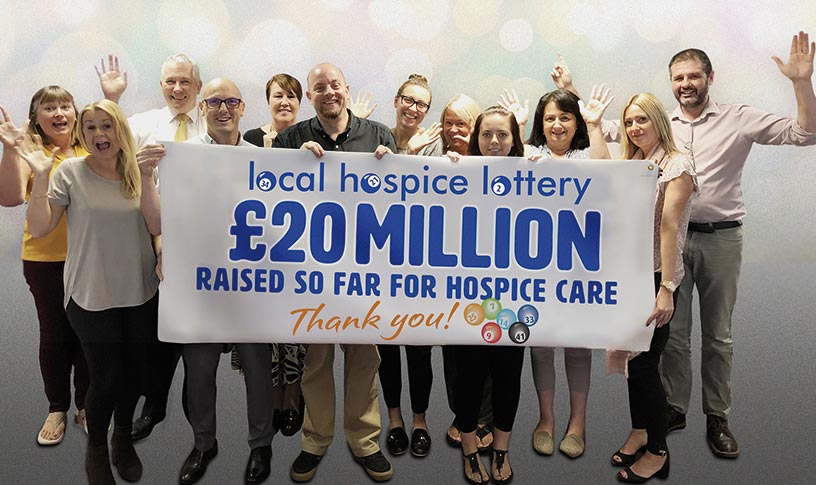 Local Hospice Lottery is delighted to announce that it has now raised an incredible £20,000,000 for hospice care through its weekly draw! As well as helping to fund the care of thousands of families affected by cancer and other life limiting illnesses across the country, this regular and reliable income also plays a crucial part in enabling the hospices it works with to plan and develop their services for the future as they strive to meet the growing needs of the communities they serve.
Gary Hawkes, Local Hospice Lottery's CEO said:
"After starting life as Farleigh Hospice's (mid Essex) own lottery back in 1996, Local Hospice Lottery was developed eleven years later to generate regular and reliable income for hospices in other areas of Great Britain. To have reached the £20,000,000 raised mark is an incredible achievement which should be celebrated. Local Hospice Lottery may now turn over in excess of £7,000,000 per year, but it remains hospice owned, hospice led and with the needs of local families affected by life limiting illnesses at its heart. Having the opportunity to work with so many hospices across the country continues to be an absolute honor and I am extremely grateful to both my team and of course all of the players who enable the income to be generated through their weekly contributions. The last decade has certainly been an exciting journey and we can't wait for what lies ahead!"
Local Hospice Lottery currently works with 21 hospices across Great Britain, from the south coast of England to the Highlands of Scotland, with the income raised by the Lottery directly benefitting their services. When asked how they feel about Local Hospice Lottery reaching this significant milestone, four of our partners commented with the following:
Sam Loveday, Director of Income Generation at East Anglia's Children's Hospices said:
 "As Local Hospice Lottery's first charity partner 10 years ago, we are incredibly proud of the £1.3million raised over that time towards our work. These donations help fund services that provide care and support to local life-threatened children and their families across East Anglia. This income source is vital in allowing us to not only continue our specialist medical care completely free of charge, but also to be constantly improving and make sure we are giving families the best possible support at an unimaginably difficult time. We are so grateful for all the supporters who take part in the Local Hospice Lottery as each game number makes a difference and can go towards the cost of symptom management support, wellbeing activities, counselling or a session of music therapy! Funding is a priority and that's why we are so pleased to have this positive partnership with Local Hospice Lottery."
Marilyn DeBattista, Head of Revenue Development, PR and Marketing at St Luke's Hospice (Basildon) said:
"We congratulate Gary and his team on reaching this impressive milestone. The Local Hospice Lottery are a fabulous organisation that St Luke's Hospice is happy to have partnered with since 2008. They have helped us navigate and supported us seamlessly, in a professional yet personal manner, into raising over £1million for St. Luke's Hospice during that time. The income we raise by working with the Local Hospice Lottery has made a significant impact and difference to the care we are able to give to our patients. It has provided the Hospice with a regular, sustainable income and our supporters a simple yet effective way of helping us.  We couldn't be more appreciative of the Local Hospice Lottery and look forward to continuing and growing our relationship in the coming years."
Highland Hospice's Head of Fundraising and Development, Andrew Leaver said:
"We are absolutely delighted to have been a part of Local Hospice Lottery since 2012. Through our partnership we have raised over £1.2 million to date which is incredible. Highland Hospice covers a vast area and aims to ensure that its population receives the best possible care and support when faced with life shortening illness, death and bereavement. We do this through our Inpatient Unit and Netley Day Therapy Centre in Inverness and, importantly, through our outreach work throughout the wider Highlands – including collaborating with community groups to make a difference locally. Local Hospice Lottery not only raises funds to enable us to do all of the above, but increases our profile throughout the Highlands, and we are very much looking forward to continuing with this successful partnership."
Liz Hancock, Mary Ann Evans Hospice (Nuneaton) Chief Executive said:
"Mary Ann Evans Hospice are delighted to be Local Hospice Lottery's newest partner. As a community hospice the decision to work in partnership with Local Hospice Lottery was twofold – the first to raise vital funds for our clinical services, the second to increase local awareness of Mary Ann and the work that we do. So far I have found Local Hospice Lottery to be very professional, efficient and, most importantly, passionate about hospice services. Mary Ann has a small Fundraising and Communications team and Local Hospice Lottery have ensured the process of setting up the lottery has been an easy one and we are excited about the success of our ongoing partnership.
"It is such an easy concept – for just a minimum of £1 a week local people in Northern Warwickshire can help support Mary Ann's services ensuring local people get the care they need when and where they need it".