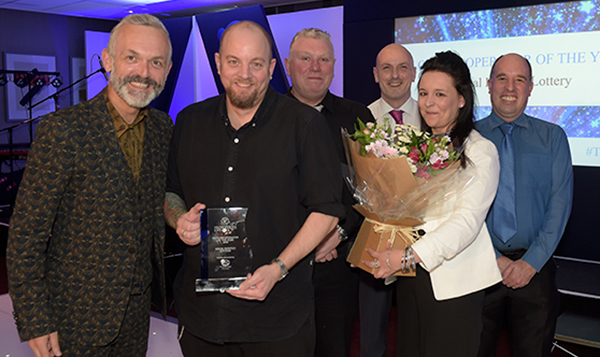 Celebrations have been ongoing at Local Hospice Lottery HQ since being named 'Lottery Operator of the Year 2018' at The Lotteries Council conference on Wednesday 18th April. The prestigious award was presented by Julian Naylor, Lotteries Council Director, and was more than gratefully received by five of Local Hospice Lottery's staff members who were in attendance.
The Lotteries Council is the voice for more than 400 members who operate and support prize-led fundraising through lotteries and competitions across the country. Local Hospice Lottery is extremely proud to have received the award, in spite of some extremely high quality competition.
Local Hospice Lottery's Chief Executive Officer, Gary Hawkes, says, "To say that we are delighted to be named the Lotteries Council's 'Lottery Operator of the Year 2018' would be a massive understatement. After being shortlisted for three national awards last year – with The Institute of Fundraising, Third Sector and the Scottish Institute of Fundraising – it is absolutely fantastic to win this prestigious award from The Lotteries Council, who only give one organisational award every year.
"Local Hospice Lottery has now raised in excess of £18million for hospice care across the country and has subsequently contributed to the essential care and support of thousands of families affected by life limiting illnesses. We currently work with twenty different hospices, from the south coast of England to the Highlands of Scotland. Winning this award is recognition of both the hard work and dedication of the whole Local Hospice Lottery Team, as well as the amazing hospices who choose to work with us and we are continually humbled and grateful to represent when promoting the Lottery. Not forgetting each and every one of our loyal players of course!" 
Jackie Johnston, from one of Local Hospice Lottery's partner hospices (Strathcarron Hospice) says, "This successful partnership is crucial in enabling us to provide our vital services and over £1million has been raised for the Hospice since we started working together. Due to the regular nature of the income, it allows us to plan-ahead at a time when our services come under increasing demand. As we didn't previously have our own lottery, we now have around 14,000 people who might not have otherwise supported the Hospice. Our partnership with Local Hospice Lottery helps us immensely now, and will continue to do so in the future."