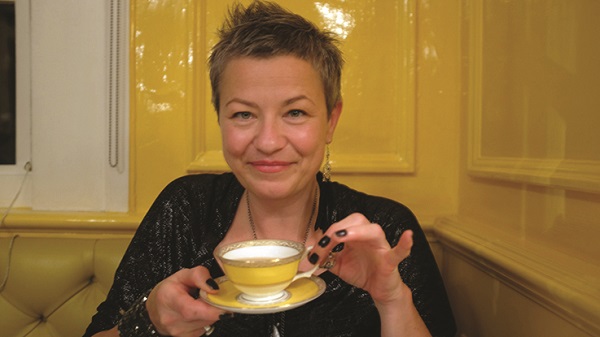 Everything changed for 47 year old Susan when she was diagnosed with a rare and aggressive form of cancer in 2012. She had always been very active and cycled everywhere from her home in Hackney. Susan loved art and photography, which had always been front and centre of her life.
When she started having Chemotherapy treatment, Susan received a phone call from a nurse at St Joseph's Hospice ,offering their support. It was a huge bombshell as she hadn't ever considered using a hospice. Isn't that where people go to die? If so, why were they calling her? It took her a while to think about it, but eventually she decided to go and take a look.
When she visited the Hospice, Susan was introduced to their art therapist, Jody. Jody soon became Susan's rock and enabled her to create some really powerful pieces of art depicting Susan's feelings about her illness. Susan also took advantage of the acupuncture, reflexology and massage on offer and gradually the Hospice became part of her cycle route. As her illness progressed and the pain became difficult to cope with, Susan was also offered respite care at the Hospice. She really benefited from being looked after and the stays helped her to maintain her independence.
Susan died in the Hospice on 20th December 2015 with her sister, Karen, by her side and Kate Bush's song 'Running up that hill' playing. She was just 51.
Karen, says, "The nursing staff were all so supportive. They enabled Susan to live life as much as she could and as well as she could. St Joseph's Hospice became her crutch and they were always there to support her."
St Joseph's Hospice in Hackney is one of seventeen hospices currently benefiting from the Local Hospice Lottery. By sharing management costs and overheads, Local Hospice Lottery is able to ensure that people get to support the hospice of their choice – whilst also offering a larger prize fund for players and providing more money for hospice care.
All of the profits generated by people taking part in the weekly draw are used to provide essential hospice care to people affected by cancer and other life limiting illnesses across Great Britain. Those £1s really add up and make a big difference! In fact, Local Hospice Lottery expects to raise at least £400,000 for St Joseph's Hospice alone over five years (from January 2017). That's A LOT of care and support for A LOT of local families and we simply couldn't do it without the help of our wonderful lottery players.
By becoming a member of Local Hospice Lottery for as little as just £1 per week, you can help to ensure that local hospices such as St Joseph's Hospice are able to keep caring for people like Susan, both now and in the future. And with as many as 7,900 cash prizes being issued automatically every year and the chance to win up to £25,000- there really couldn't be an easier way to help AND be in with a great chance of winning. It's a win-win situation! Click here to sign up today!