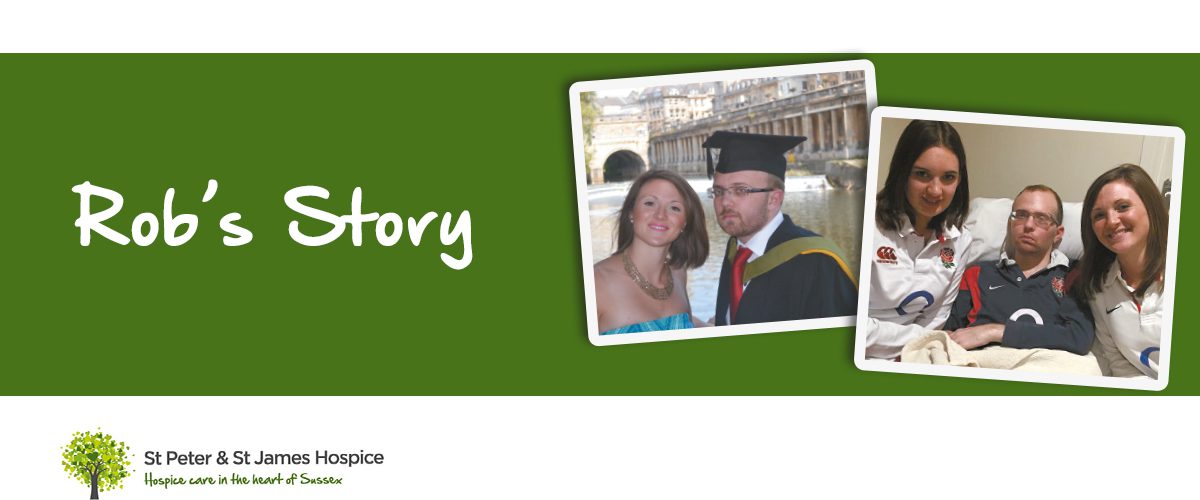 By playing the Local Hospice Lottery  for just £1 per week, you can help to ensure that local hospices such as St Peter & St James Hospice are able to keep caring for people like Rob and his family.
Nothing could have prepared Judith Ayres for her son, Rob, collapsing whilst she was away on holiday and the fact that they were about to begin the most traumatic three years of their lives. She explains: "We had no clue at the time what had caused our 22-year-old student son to collapse whilst he was staying with his sister. After a number of tests and scans, we received the devastating news that Rob had a brain tumour at the base of his brain. It was in operable and the prognosis was not good, but we were told that there were a variety of treatments that could be undertaken to prolong his life.
"Life would never be normal again; we had to live with the fact that Rob was going to die. Over the next two years Rob completed his degree at The University of Bath, despite the fact that the tumour was causing the loss of sight in one eye. He was determined to live life to the full, despite experiencing side effects from the cocktail of drugs he was prescribed.
"Although we knew of the Hospice, we had never thought it would be somewhere we would need to take our son. Sam, our Clinical Nurse Specialist, put Rob at ease from day one. She was able to answer Rob's questions about dying, arranged for him to have physio and also helped to make our home practical so that we could care for him.
"Rob decided to make the most of the time he had left and he put together a wish list of everything he wanted to do in the short time he had left. He packed so many things in to those last months and just never gave up hope, so neither did we.
"In the last week of his life, Rob was rushed to hospital with an infection. He was very ill, but still knew that he did not want to spend his last days there. The Hospice was fantastic and arranged for Rob to be transported from the hospital by ambulance. The care which he received in the final hours of his life was overwhelming. Family and friends were with him right to the end and he died peacefully, surrounded by those he loved." – Judith Ayres
St Peter & St James Hospice is one of over twenty hospices currently benefiting from the Local Hospice Lottery. By sharing management costs and overheads, Local Hospice Lottery is able to ensure that people get to support the hospice of their choice – whilst also offering a larger prize fund for players and providing more money for hospice care.
By becoming a member of Local Hospice Lottery for as little as just £1 per week, you can help to ensure that local hospices such as St Peter & St James Hospice are able to keep caring for people like Rob, both now and in the future. And with as many as 7,900 cash prizes being issued automatically every year and the chance to win up to £25,000 – there really couldn't be an easier way to help AND be in with a great chance of winning. It's win-win!