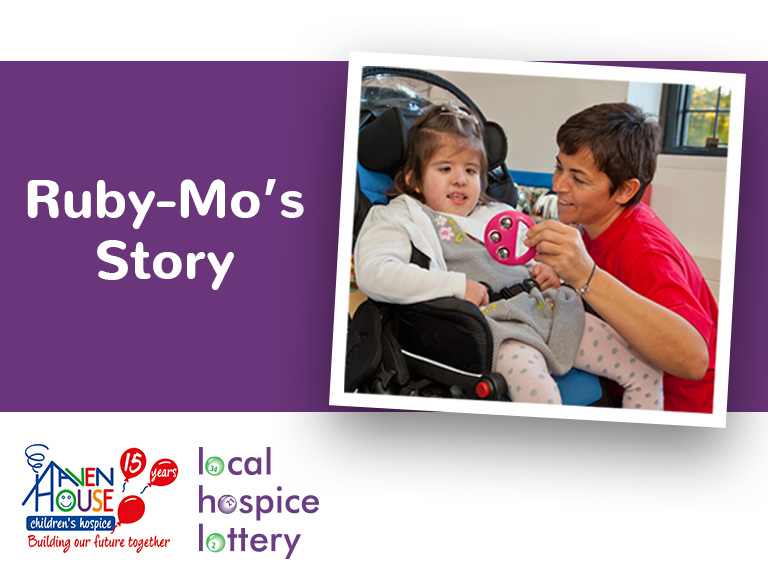 By playing the Local Hospice Lottery  for just £1 per week, you can help to ensure that local hospices such as Haven House are able to keep caring for children like Ruby-Mo and her family.
After a normal pregnancy and delivery, Ruby-Mo was born to first-time mum Kiran in September 2010. However, soon after birth, Ruby-Mo was taken to the Special Care Baby Unit as she was not feeding well and was continuously cold.
At five weeks old she had respiratory distress and had to be ventilated. This was the start of over 40 hospital visits over the next two years. When she was nine months old, Kiran and Paul were told their daughter had a genetic chromosome condition and she would not be able to live an independent life. Kiran says, "For the first two years after Ruby-Mo was born I didn't smile. I felt deflated and had no life whatsoever. I had to take each day as it came and couldn't plan anything. Ruby-Mo was on oxygen 24/7 and every time she went into hospital I thought I would lose her. Everything was a constant worry and I couldn't see how things would get better."In November 2012, a home care nurse told Kiran about Haven House and the support it could provide. It took a while for the family to come round to the idea of visiting the hospice, fearing it was a place where children came to die, but Kiran now realises this is far from the truth. She says:
"Ruby-Mo looks happy when she is at Haven House and I know the nurses are brilliant so I have peace of mind. I was able to go away for my 30th birthday for five days and totally relax. It really was the best birthday present; having some me time safe in the knowledge that Ruby-Mo was inexpert hands."
Ruby-Mo has been coming to Haven House for day visits and overnight stays for over two years now and Kiran has got back her zest for life. While the demands of a child with such a condition means life is never going to be easy, Kiran is proud of Ruby-Mo and credits her for making her the person she is today. Ruby-Mo thrives in her music therapy sessions at the hospice and loves the switch adapted toys that she is able to borrow through the hospice's toy home loan service.
Kiran concludes, "Support is so important and that is what the Haven House nurses and other mum have given me. We truly would be lost without the respite care as it gives us that chance to be
ourselves and have some kind of normality for a few hours. The hope and stability they provide keeps us all smiling."
Haven House believes that no family should have to face the difficulties of looking after a child with a life-limiting condition alone. By signing up to the Local Hospice Lottery you are helping to ensure that Ruby-Mo and her family, and others like them, can continue using the services Haven House provides.
Haven House Hospice Care is one of over twenty hospices currently benefiting from the Local Hospice Lottery. By sharing management costs and overheads, Local Hospice Lottery is able to ensure that people get to support the hospice of their choice – whilst also offering a larger prize fund for players and providing more money for hospice care.
By becoming a member of Local Hospice Lottery for as little as just £1 per week, you can help to ensure that local hospices such as Haven House Hospice Care are able to keep caring for children like Ruby-Mo, both now and in the future. And with as many as 7,900 cash prizes being issued automatically every year and the chance to win up to £25,000 – there really couldn't be an easier way to help AND be in with a great chance of winning. It's win-win! Click here to sign up today!