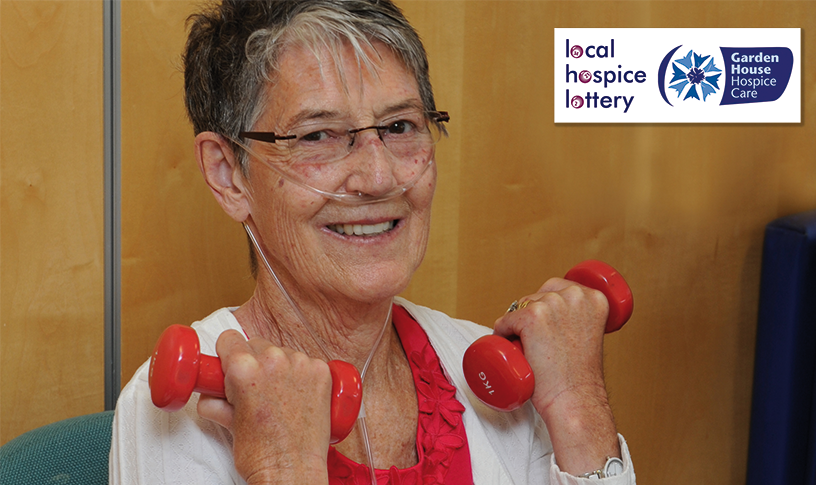 Irene is living with Pulmonary Hypertension and is a regular visitor to Garden House Hospice Care's Hawthorne Centre. Her symptoms include fatigue, shortness of breath and chest pains. She was first referred to the hospice in January 2015, after a severe chest infection and can't speak highly enough of the hospice's services and staff:
"When I first came to the hospice I did not know what to expect. I joined the Friday 'Coffee & Lunch' session and gradually became familiar with the group and the Hawthorne Centre. It was good to meet and talk to other people about how we feel and manage day to day. After several months, the Hawthorne Centre's Sister talked to me about joining one of their short courses. I have since attended courses such as 'Fatigue & Breathlessness', 'Coping Well' and also 'Sharing Stories for Wellbeing' and it has all been so good for me. I was worried it might be depressing, but they were all really positive and have given me tools to be more independent.
"I learnt that being out of breath won't kill me and the breathing techniques I have learnt help me not to panic and get anxious. I now attend the gym sessions twice a week and can see a noticeable difference to when I first started. The whole Hawthorne Centre Team and volunteers are so supportive. The Hawthorne Centre has been a lifeline and the weekly groups I attend give me something to look forward to. The hospice has given me a sense of belonging – I have made some valuable friendships."
Garden House Hospice Care in Letchworth Garden City is one of over twenty hospices currently benefiting from the Local Hospice Lottery. By sharing management costs and overheads, Local Hospice Lottery is able to ensure that people get to support the hospice of their choice – whilst also offering a larger prize fund for players and providing more money for hospice care.
All of the profits generated by people taking part in the weekly draw are used to provide essential hospice care to people affected by cancer and other life limiting illnesses across Great Britain. Those £1s really add up and make a big difference! In fact, Local Hospice Lottery expects to raise at least £800,000 for Garden House alone over the next five years (from December 2017). That equates to A LOT of care and support for A LOT of local families and we simply couldn't do it without the help of our wonderful lottery players.
By becoming a member of Local Hospice Lottery for as little as just £1 per week, you can help to ensure that local hospices such as Garden House Hospice Care are able to keep caring for people like Irene, both now and in the future. And with as many as 7,900 cash prizes being issued automatically every year and the chance to win up to £25,000 – there really couldn't be an easier way to help AND be in with a great chance of winning. It's win-win! Click here to sign up today!